There are some fraudulent emails and SMS messages circulating and targeting Australia Post customers. This scam pretends to be from Australia Post about a parcel notification/package collection/package confirmation. Clicking on the link in the email or SMS leads to a fake website with a lengthy feedback survey that scammers use to gain customers information.
If you see the following link in an SMS "http://bit.ly/", do not click on it.
Some emails will take you to a website that spreads malware.
The nature any malware may vary. It may be ransom-ware that locks up your computer's files and demands that you pay a fee to online criminals for an unlock code. Or it may be designed to steal sensitive login details and other personal information from your computer.
Criminals have repeatedly used fake 'undelivered parcel' emails as a means of distributing malware. Similar fake Australia Post emails have been used as a malware vector since at least 2011.
Be very wary of  alternative versions that may claim to be from other high-profile delivery companies including FedEx, USPS, and the Royal Mail.
Australia Post will never ask you to click a link or button in an email to print off a label to redeem a package. Australia Post has more information about such scams on its website.
Scam Email: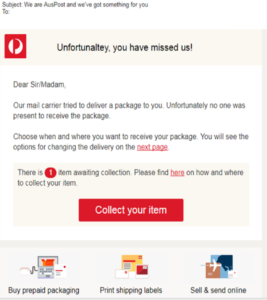 Scam SMS:
Scam Website: